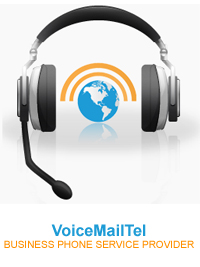 VoiceMailTel is a high-tech innovator focused on improving productivity for its customers. It provides unified telecommunication solutions integrating PSTN, VoIP, cellular, voicemail and fax services.
A good phone system is important for any company as it can serve as the portal of communication between the business and their clients.
For small businesses, to buy an expensive PBX (private branch exchange) system to juggle extensions, conference calls and voicemail is not the best option. The best solution is a Virtual PBX or Virtual Phone Service, which doesn't require new hardware to buy and maintain and is managed via the Internet. Because the entire system is administered by the provider, you can spend more time taking care of your business.
VoiceMailTel's services can give the professional telephone sound and functionality the users have always dreamed of and help any business achieve state-of-the-art voice communication that functions just like the systems used by FORTUNE 500 companies, at only 14.99 CAD per month.
Here is why you should choose VoiceMailTel:
The cost
VoiceMailTel is the most affordable VoIP solution on the Canadian market. The packages start at only 14.99 CAD/month and include: Toll Free or Local Number, unlimited incoming calls on local numbers, multiple virtual extensions with their own call forwarding number and voicemail, multiple mailboxes for storing voice messages, music or messages on hold, custom greetings, caller ID and multiple other useful features.
Flexibility
Flexibility is a big advantage for small businesses over traditional voice communications. There is no need to install any hardware or software, VoIP calls can easily share the data network bandwidth and this can be flexed up and down if the call volumes grow, even without adding new connections.
Integration
VoIP systems can be integrated not only with telecom providers, but also with vendors, suppliers and other applications in your environment. Using VoiceMailTel's Virtual Phone Service customers can route all calls to mobile phones, home phones or internet phones, thus being reachable anytime and anywhere.
Try our services free for 30 days!
or
Tags: business phone service, customized messages, e fax, fax, fax service, fax services, fax to email, hosted pbx, local numbers, messages on hold, music on hold, pbx, phone system, toll free, toll free number, toll free numbers, virtual extensions, virtual pbx, virtual phone service, voice communications, voicemail, voicemailtel, voip, voip provider, voip service, VoIP solution

Categorised in: VoIP