What is Virtual Phone Service?
Have you ever thought of upgrading your local or toll-free number to meet the needs of your growing business?
VoiceMailTel's packages for small, home-based businesses and mobile professionals can give you the professional telephone sound and functionality you've always dreamed of – at only 14.99 CAD per month. Our service helps any business achieve state-of-the-art voice communication that functions just like the systems used by FORTUNE 500 companies.
The VoiceMailTel virtual phone service is perfect for businesses with 1 or more employees and best of all it works with any phone – including your office phone, cell phone, home phone or VoIP phones – from anywhere in the world. That's right – there's no additional equipment or software to purchase or to maintain. With a live-recorded main greeting and multiple options for managing incoming calls with multiple extensions for employees or departments, VoiceMailTel can help you sound more professional. Help your business grow by improving communication with your partners and customers.
With a pre-recorded main greeting, and multiple options for managing incoming calls with multiple extensions for employees or departments, VoiceMailTel can help you sound more professional while simplifying the ways callers can reach you.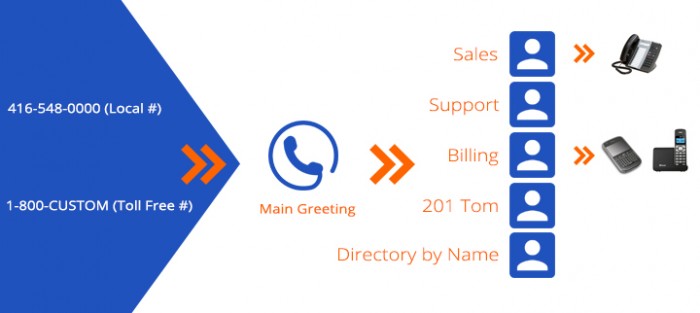 Virtual Phone Service from VoiceMailTel
VoiceMailTel's Virtual Phone Service is the most complete virtual phone service available on the market. It functions as a virtual call attendant, a very useful sales and marketing tool – allowing your small business to sound professional, and allowing you to manage customer calls and simplify the way callers reach you. Virtual Phone Service from VoiceMailTel:
Toll Free numbers support an unlimited number of incoming calls, so your callers never get a busy signal. If you choose a local number, incoming call handling will depend on the number of lines purchased.
Gives you complete control in designing the features available to the extensions, for employees or departments, announcements of company information (working hours, sales or marketing promotions), etc.
Allows each extension to have its own call forwarding number and voicemail, so that incoming calls can be forwarded to your home phone from your location and "Customer Support" can be forwarded to a cell phone at any other location.
Lets your callers listen to music-on-hold and/or your customized announcements while waiting to be transferred or forwarded.
Each extension's mailbox can be checked by phone or online, regardless of where the forwarding number is located. You can even set up your own call schedule. For example, you can have calls forwarded from 10 A.M. – 2 P.M. to your cell phone and from 2 P.M. – 6 P.M. to your home phone.
Sends and saves voice messages to your VIP address as audio attachments.
A Fully Customizable Phone Service That Will Make Your Small Business Look Big
VoiceMailTel's Virtual Phone Service allows you to customize all your extensions, greetings and notification options to meet the needs of your small or home-based business. What could be better than a simple toll-free voicemail service that never misses a message, regardless of whether you are away or unable to answer a call at a given time? You can also choose to set up a fully-featured phone system that is able to forward and transfer calls to numerous extensions, to e-mail your phone messages as audio attachments, and that is customizable from any phone dial pad or online using the VoiceMailTel Portal account management tool. VoiceMailTel service makes sales professionals more accessible to clients when they are in the office or on the road.
A 24/7 Marketing & Sales Tool That You Can Use to Tell Callers More about Your Company
VoiceMailTel's Virtual Extensions feature allows your callers to receive more information about your products and services via a submenu system of extensions with pre-recorded messages.
Professionally Recorded Greetings Give Your Small Business a "Big Company" Sound
Callers who dial a VoiceMailTel toll-free or local number will hear an introductory greeting professionally recorded earlier. Your greeting instructs callers to choose an extension or select your company's dial-by-name directory. Once callers select an extension, the call is forwarded directly to the person or department you have assigned to that specific mailbox.
Multiple Extensions and Mailboxes Instantly Direct Callers to the Right Person or Department
With VoiceMailTel your small business will have specific mailboxes or extensions to provide callers with more information about your products and services. For example you can have callers choose an extension that connects them with the sales department, the company operator, customer support, or any department you choose.