Canada Day occurs on July 1st, the anniversary of Canada's confederation,  this year celebrating the 148th birthday.
Formerly known as "Dominion Day," Canada Day marks the anniversary of the Constitution Act of 1867, joining Nova Scotia, New Brunswick, and the Canada province (now Ontario and Quebec) into a single country.
Canada Day is recognized with parades, fireworks, carnivals, outdoor concerts, and festivals. Many Canadians also engage in popular outdoor activities like sports, barbecues, and trips to the beach.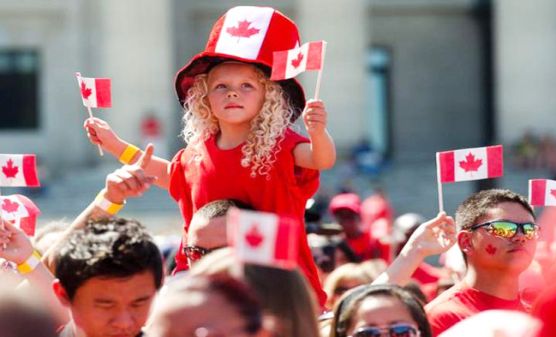 Let's see some ideas on how to celebrate Canada Day
1. Depending on your community, hit the streets and enjoy the parades, outdoor concerts, and food. There are many things to have fun with from face painting for the kids to crowd entertaining jugglers and magicians.

2. Dress in a patriotic way. This can be done by wearing a simple maple leaf T-shirt or going bold by draping the maple leaf flag over your shoulders. Get creative and show off your pride for Canada with red and white attire!

3. Consider visiting the nation's capital. Ottawa throws a spectacular event on the grounds and surrounds of Parliament House, with activities all day long. You'll experience flyovers, concerts, the RCMP musical ride, food booths, excited crowds and much more; it's a day to remember for always, so book early if you're travelling from another province.

4. Enjoy air shows from Canada's Air Force. Check online (see below) for details of where they will be each year.

5. Attend the Montreal Jazz Festival or Calgary Stampede. Be sure to book early though, as these events are popular and accommodation fills fast.

6. Have a cookout with family and friends or go into town to enjoy some delicious multicultural food.

7. Let off some fireworks. Alternatively, make plans to spend an evening enjoying local firework shows in your area. Take along the whole family to make an event of it.

Snowbirds air show schedule for this summer

Tags: Canada Day, Celebration, voicemailtel


Categorised in: Did you know