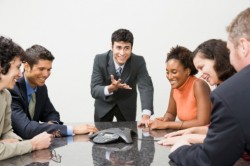 Conference calls are no longer just reserved for big companies. They have now become a necessary business communications tool to help companies stay ahead of their competition. Here are some of the main benefits of audio conferencing:
Save on Travel Costs:
The days of long drives and flights to attend a two-hour meeting are over. Now, participants can attend meetings without having to leave the office. This amounts to big savings on gas, flights, hotel costs, and per diem allowances.
Save Time:
Because participants don't have to leave their offices to attend a meeting, you also don't waste time waiting for people. Decisions can be reached faster, information can be transmitted faster, and projects can be finished quicker. If someone doesn't pick up the phone, just try again in a few minutes.
Global presence:
Reach customers and colleagues in different states or different countries. Conference call providers can offer toll-free numbers and international numbers for your audio conference. Most conference call providers can also support anywhere from a hundred to a thousand participants at one time.
Do More with conference calls:
Your conference calls need not be limited to audio conferencing. Your audio conferences can be enhanced by online collaboration tools. They allow you to create a personal relationship with your team, customers and partners.

Share, understand, impress and give instant feedback.

Source:

http://www.voipreview.org/audio-conferencing

http://www.voicemailtel.com/features/conference/

Tags: business, communication, Conference, phone system, professional, voip service, VoIP solution


Categorised in: VoiceMailTel, VoIP